A reptile show is a lot of fun for groups of all types! We can present to any sort of social or community group such as scout troops, church groups, herpetocultural societies, or other special interest clubs. A reptile educator will bring our live Animal Ambassadors and can design a program just for your needs.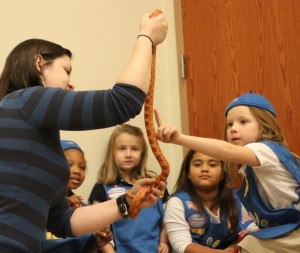 Our basic program for a group setting is a one hour presentation and can accommodate up to 25 guests.  A Reptile Educator will come to your meeting location with 9-12 reptiles (a variety of different turtle/tortoise, snake, and lizard species).
Several example group presentation topics include:
– Reptile Show & Tell
– All About Reptile Biology
– All About Reptile Rescue
– Respecting Reptiles – In the Wild & Captivity
– So You're Thinking About A Pet Reptile?
– Reptile Safety
– Considerations for the Health & Well-Being of Reptiles in Captivity
– The Importance of Quarantine
and more!
We can tailor any party to your needs by: focusing on a particular topic or theme; including a PowerPoint presentation; bringing more or fewer Animal Ambassadors; presenting to a larger group of guests; or presenting for a different length of time.  We are experienced in working with children and adults of all ages, as well as individuals or groups with special needs.
To reserve a date for a group presentation, a deposit of 25% of the fee is required.  All presentations are fully insured and we have a 100% incident-free record.  For additional information or to book an event, please contact us.   Please note that we do not offer educational programs on Sundays.
Don't forget to bring your camera!
If you liked this post, say thanks by sharing it.