Live in Central Arkansas and want to volunteer up close and personal with a variety of reptiles?  The Reptile Rescue Center is home to approximately thirty species of reptiles at any given time.  Some of these animals are permanent residents of our sanctuary; some are Animal Ambassadors in our education program; and some are awaiting adoption into new homes.  We are a small 501(c)3 nonprofit organization and therefore depend on the help of volunteers to carry out our mission.  We have several volunteer opportunities available.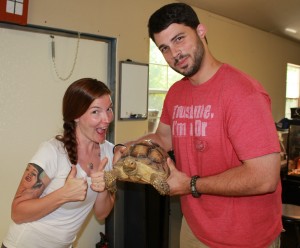 Current Volunteer Opportunities:
Animal Maintenance Volunteers make a once-a-week commitment to assist staff in the day to day care of the animals (cage cleaning, food preparation, feeding, and handling/taming) as well as maintenance of the Center.  Read the full job description here: Animal Maintenance Volunteers.
The Animal Socialization Team is for current Animal Maintenance Team volunteers who have been working with us for a minimum of one session.  Animal Socialization Volunteers assist the Reptile Rescue Center staff in the taming and socializing of the animals, including making sure animals are accustomed to handling for presentations and adoption.  Read the full job description here: Animal Socialization Volunteers.
Can't commit to the once-a-week schedule required to be on our Animal Maintenance Team but still want to volunteer?  We welcome potential volunteers who need limited hours for service learning, community service, or service projects.  Visit our Limited Service Volunteers page for more information.
Are you a college student interested in completing an internship with a local nonprofit organization?  We welcome interns in many fields of study including nonprofit management, applied communication, marketing, business management, education, fundraising, biology, accounting/financial management, graphic design, and more.  Visit our Internships page for more information.
If you liked this post, say thanks by sharing it.