UPDATE: At this time we are currently not accepting new Animal Maintenance volunteers.  Thank you for understanding.
The purpose of the Animal Maintenance Team is to assist the Reptile Rescue Center staff in the care and maintenance of the animals including but not limited to cleaning enclosures, preparing food, feeding and watering animals, socializing animals for education programs and adoption, and maintaining the Reptile Rescue Center facility.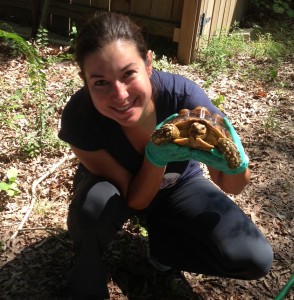 Responsibilities
Cleaning the animal enclosures and furnishings.
Providing routine care and maintenance of the animals.
Helping in the feeding and watering of the animals.
Keeping the RRC facility cleaned and maintained.
Qualifications
Animal Maintenance Volunteers must be:
At least 14 years old. Volunteers under the age of 18 years must have parental permission.
Comfortable with handling reptiles and cleaning their enclosures.
In good physical condition to handle the workload. This includes being on your feet for two hours at a time, possibly lifting or helping lift heavy animals or equipment (up to fifty pounds), and working in an environment in warm temperatures (75-85°F).
Responsible and committed to their duties and schedule.
Able to follow directions and rules.
Able to work well with others.
Commitment
Volunteers are expected to commit to a regular two-hour shift once-a-week for a minimum of one session.  Each session coincides with the local school systems' semester schedule (Spring, Summer, and Fall).
Time and Place
Reptile Rescue Center is located in Southwest Little Rock (near UALR and the Rave Movie Theater).
Shifts are two hours long.
Shifts are: Monday, Wednesday, & Friday:
10:00am-12:00pm and 3:00pm-5:00pm
Application Process
If you liked this post, say thanks by sharing it.